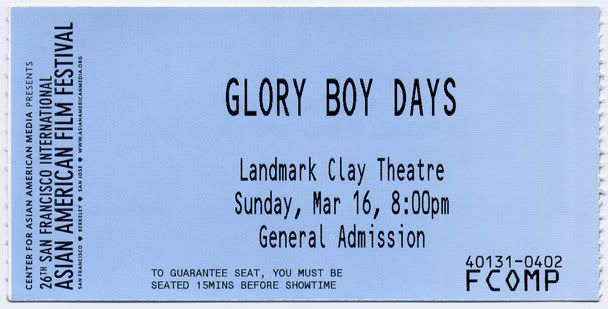 Alright... this weekend I was able to chill with the top billed front man Jared Mendiola, lead actor of the official 2008 Slamdance selected feature Glory Boy Days. All the way up until the second act of the movie I had no idea that Jared was the lead actor for GBD... even though this cat has only spent several weeks in Guam as a kid back in 1994... his humble personality proves that his parents raised him right... humble, down to earth, generous, and an all around cool dude. He definitely has an island heart. Biba Chamorro!

So I left LA around 1:50 in the afternoon made a pit stop at the Mobil station for some snacks and to top off the tank before I hit the 5. I scored the usual... protein bars, bottled water, Rockstar, (super sized) and the road trip favorite... beef jerky... and I was out. The drive was cool... it took roughly five hours and only one restroom stop... not bad. As soon as I hit the Bay I called an old friend and long time musical counterpart Jerry Castro to see if he was interested in rolling with me to the Camera 12 Cinemas in downtown San Jose... it's his hometown so he came through.

8:00pm rolled around and I wanted to make sure I got a seat for the 9:00pm screening so Jerry and I left for downtown. Our tickets had all the wrong info on it...wrong day, wrong time, wrong theater... but they were comped by Jared so I guess it didn't matter seeing that we were to be escorted in by the lead actor. Jerry and I got to the theaters around 8:30-ish and I immediately recognized Jared from the trailer of GBD.(Jared and I never met in person) He was cool from jump... he thanked me for making the drive out, told me I didn't have to pay him back for the tickets and introduced me to the director of Glory Boy Days Paul Encinas... sweet!

12:00am After the movie... there was a Q&A with the director Paul Encinas and Jared... they gave me a pretty good idea what to expect during the Q&A for our Shiro's Head pre-screening... I asked a couple questions and shortly after Jared suggested we hit the town. We kicked it at a Saki bar downtown and he let me pick his brain for about an hour asking him about all his experiences working on GBD and all the other projects he's worked on. Long story short he schooled me... he gave me so much info I just couldn't wait to make the drive back home and mentally map out how I could apply his knowledge and experiences towards SH. 1:30am we said peace.

1:50-ish I dropped Jerry home and got back on the 5 for another five hour drive... I was up for 38 hours... beginning from 7:00am Saturday to 9:00pm Sunday... It must have been all that Rockstar drink. I really had a blast. The screening to me was way more than just a movie... heck... I was able to watch a movie and afterwards hang out and talk shop with the lead actor... how cool is that? It was hard to believe that Glory Boy Days was made for $5k it easily looked more like a $500k budget... the script was well written with lots of dialogue, the acting was quite impressive considering this was Jared's first acting role along with a group of unknowns, there was a natural chemistry amongst the actors, everyone was casted well, all awesome locations and set designs... an all around solid indie to me.

Like I said earlier in this post... the experience was more than just a movie to me... my meeting with Jared helped me understand a little bit of what the making of Glory Boy Days was like behind the scenes... and how much hard work, dedication and passion went into the whole creative process. Jared was able to re-assure me that our Guam Movie was on the right track to success... the similarities were a bit freak-ish... not so much the on-screen presence of the film but more the behind the scenes aspect of it. All passion driven and complete submission to the art by the actors, director and crew. Jared, I congratulate you on a job well done... can't wait to see what you'll do for your next project. Readers, be expecting an in depth interview with the actor Jared Mendiola as soon as I can get him to pencil me in. peace.